Gr 7 Flag Football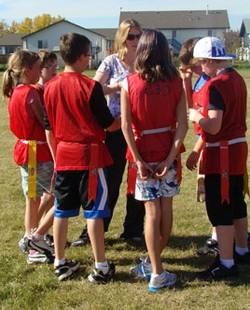 Flag football is a fun game that's easy to learn. It's similar to tackle football,  the primary difference being that there is no contact. Instead of tackling the ball carrier, the defenders try to pull flags that are hanging from the ball carrier's belt. No blocking, no tackling, no contact - Just Lots of Fun!
Sign up and practices will happen in September. Typically, the tournament is held in Whitecourt the first Saturday in October. Practices run after school from 3:45 - 5:00 pm once per week.
Gr 7 Volleyball (Triple Ball)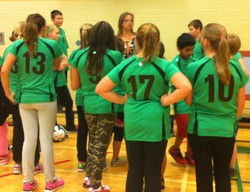 The Grade 7 Volleyball Teams are gearing up for another exciting year of sport, fun and friendly competition. We have girls and boys teams that play inter-school games against Darwell and Grasmere, including a final tournament. We hope to get a lot of support, especially at the home games! The more cheering the better! Come out and support your Grade 7 volleyball teams and get ready to see some great volleyball.  Good luck to all the players and remember; play fair and have fun.
 Triple Ball is a modified game of volleyball that provides 3x the opportunities to generate rallies, and 3x the fun. Click here to learn more about Triple Ball. 
Gr 7 Basketball
The OES Basketball season runs from the end of January to the beginning of March. A fun league has been organized between Onoway, Grasmere and Darwell to promote friendly competition and fun! Grade 7 students are invited to join the OES Basketball Teams. There will be one practice each week, two home and two away games as well as a one day tournament at Darwell School. Tournament game times will be announced at a later date.
Parent Responsibilities:
Pick your child up promptly at 5 pm, on practice nights.

Inform coaches if your child is being picked up by someone else after practices and games.

Drive your own child only to and from the games if you wish

Respect all coaches and referees.

Support and encourage your child to do his/her best


Student Responsibilities:
Attend all practices.

Put forth your best effort at all times

Display a good sense of fair play, respect and sportsmanship
Badminton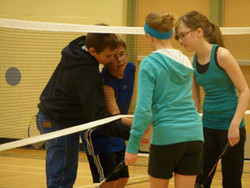 Boys and Girls teams practice weekly for roughly 6 weeks, final tournament at end of April. Students participate in both singles and doubles play in inter-school tournament. 
Running Club
Boys and Girls teams prepare for Running Room Indoor Games in February.
Nordic Ski Club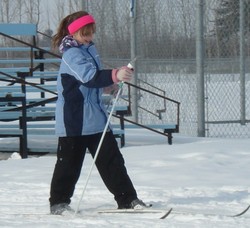 Cross country ski sessions for students  in Grade 2-7 interested in skiing the Birkie.
Mini Handball Program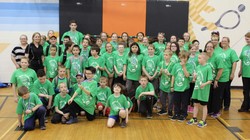 The Mini Handball program runs for 6 weeks in the Spring. It is open to boys and girls in Grades 3, 4, 5 and 6. The season ends with a Jamboree in Mayerthorpe which brings together players from other schools in the school division. The focus of the program and the Jamboree is to:
strengthen team building & leadership skills
experience the sport of Mini Handball & improve as a player
meet new people from across the school division
HAVE FUN!
Variety
Onoway Elementary offers a variety a sports teams for our students. Grade 7's have the opportunity to join the Flag Football, Volleyball, Basketball and Badminton teams. Gr 3 - 6 students can play Mini-Handball and Gr 4-6 join the Running Club. These teams all practice and may have games after school in addition to Saturday tournaments. More information regarding teams will be available soon. Please check the website calendar regularly for practice and game schedules.